Sightseeing Gondolas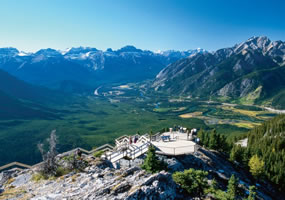 The 360° view from the upper gondola terminal is the very best vantage point in the west.
Safely seated in 4 passenger gondola cabins, visitors are transported in 8 minutes to the summit at an elevation of 2,281m (7,486 ft).
Enjoy breathtaking views from the Summit Restaurant which serves breakfast, lunch and dinner. No reservations required.
Take a walk to the historic Sanson's Peak Meteorological Station.
Combine with a Banff sightseeing tour for a full Banff experience.
403 762 2523
Lake Louise Summer Sightseeing Gondola
Gorgeous views, interpretive walks, and grizzly bear educations.
Open daily.
N side of Hwy 1 (on the famous ski hill)
403 522 3555